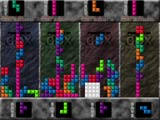 This is the homepage for CDX N64 Tetris, created by Jimb Esser using MS VC++ and the wonderful CDX Graphics library. It is a tetris clone that borrows some of the featuers of the N64 version of Tetris, more of the N64-like features will be added if the developer has time or they are requested. If you are interested in a simple version of Tetris, written in CDX, with source code, check out CDX Tetris. The N64 styled featuers currently include 4-player mutliplayer, piece swapping, gold and silver blocks.

Requirements:

Greater than 1024x768 resolution (it runs in 1024x768 windowed mode currently)
2 Joysticks and/or gamepads
DirectX 7.0 or higher

Please contact me if you have anything you would like to add to the source, have any neat ideas on things to add, or are interested in making some new background images or graphics for the game.
History:
v0.9 - Initial release 1-1-2 Happy New Year!